Glen Lake Shopping
6 January 2012
No Comment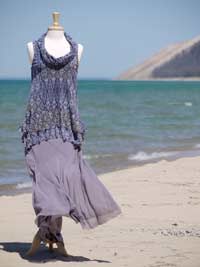 Glen Arbor Shopping Near Glen Lake
Nestled between Lake Michigan and Big & Little Glen Lakes, in the heart of Sleeping Bear Dunes National Park, you'll find Glen Arbor. It's a quaint town with great shops, restaurants, hotels, resorts, and activities of all kinds during every season.
In 1983 local artists and art supporters Suzanne Wilson, Ananda and Ben Bricker, Midge Obata, Becky Thatcher, Frank and Barbara Siepker, and others pooled their ideas and energies to create an art organization. Some of them continue to be actively involved to this day and many other talented and dedicated individuals have joined to carry on and enlarge the original vision for the Glen Arbor Art Association.
If you are an area resident, either full time or during the summer, come and visit us in Glen Arbor.
---
American Nordic Walking System
Real Nordic Walking Poles – 16 different lengths! Don't get scammed by cheap collapsible poles. Burn more calories. Radically improve balance/stability. FREE lessons by appointment. We ship world-wide everyday. Located at 5873 Lake Street and in the Village Sampler Shops on M-22.
5873 Lake St. PO Box 322
Glen Arbor, MI 49636
231-334-3080 or 877-SKIWALK
www.skiwalking.com
---
Bay Lavender Trading Co.
Explore the possibilities of natural lavender including soaps, lotions, household & culinary products. Made with pure vegetable oils (no animal fats), all soaps contain glycerin for the ultimate in skin conditioning.
5777 Lake St. PO Box 696
Glen Arbor, MI 49636
231-334-2582
www.baylavender.com
---
Bay Wear, Inc.
Looking for a Glen Arbor Tee shirt? How about a cozy Glen Lake sweatshirt. This is the place. From babies thru adults, we have your size. In the Village Sampler Plaza.
5919 Ray St. (M22)
Glen Arbor, MI 49636
231-334-3411
---
The Black Swan
Unique, beautiful clothing and accessories! Over twenty years delighting north country guests and residents with wonderful sweaters, designer apparel, scarves & jewelry. Open daily year 'round in the Village Sampler Plaza. M-22.
P.O. Box 678
5915 Ray St.
Glen Arbor, MI 49636
231-334-4045
www.blackswanllc.com
---
The Cottage Book Shop
The Cottage Book Shop is a full service book store that features the best selection of regional books, many signed, along with carefully selected fiction and children titles.
Located in an inviting historic log cabin, the shop carries new, used and old books, plus journals, greeting and blank cards, new and antique maps, CDs by local musicians, Ken Scott photographs, Glen Arbor artist Kristin Hurlin's limited edition prints, native American artist Lois Beardslee's prints, pins, birch bark/quill baskets, annual Manitou Music Festival and Port Oneida Fair posters, art posters by Mary Frey and Glen Clark and Vintage View's unique reproductions of Lake Michigan ship and vacation posters.
Contact us to receive our monthly email newsletter with Book of the Month selection, book signings, children's activities and store events and/or mailed bi-annual newsletters with recommended titles.
On Lake Street between Arts and Cherry Republic in Glen Arbor.
5989 S. Lake Street PO Box 115
Glen Arbor, MI 49636
231-334-4223 or 800-303-6956
www.cottagebooks.com
---
Cottonseed
Take the scenic route to discover yourself. In an historic building in downtown Glen Arbor, you will find natural fiber fashion, artisan jewelry, smart stylish accessories and local gift items for a comfortable, creative lifetyle. Open Daily, May-October.
6501 Western Ave. (M-22) PO Box 460
Glen Arbor, MI 49636
231-334-7377 or 231-218-9921
www.thecottonseed.com
---
Deerings Garden Center
Annuals, Hanging Baskets, Beautiful Container Planters, Perennials. Ornamental Shrubs. Offering a full line of garden tools, accessories, soils, mulch, birdfeed and feeders. Next to Deerings Market. Open 7 days.
10233 Front St. PO Box 237
Empire, MI 49630
231-326-5249
---
Greystone Gardens
Specializing in garden plants. Large Greenhouse/growing facility. Hugh selection of premium annuals, perennials, hanging baskets and more! Located 2.8 miles south of Empire, 1/2 mile east on Manning Rd.
9875 Manning Rd
Honor, MI 49640
231-326-5855
---
M22 Glen Arbor
"M22 is not just a road, it's a way of life" – Keegan & Matt Myers, founders M22
This also happens to be part of Crystal River Outfitters' (our sister store) way of life. We are happy to have our stores located on this road that runs throughout Leelanau & Benzie County. This road leads to beautiful lakes, beaches, towns and rivers that offer amazing recreational opportunities year-round.
"M22 featurs a full line of M22 clothing, hats stickers, hoodies, accessories, and wne. Sip and shop when you taste and purchase our locally grown and produced M22 wines.
6298 Western Ave. (M22) PO Box 220
Glen Arbor, MI 49636
231-334-4425
www.crystalriveroutfitters.com/m22-cro
---
Momentum of Glen Arbor
Manufacturer/distributor of MOMENTUMOUTFITTERS clothing. Offering near wholesale prices at 9 locations throughout Michigan. Visit us in beautiful: Glen Arbor, Frankfort, Traverse City, Atwood, Charlevoix, Petoskey, Mackinac City, Leland & Suttons Bay.
6544 Western Ave.
Glen Arbor, MI 49636
231-237-0613
www.momentumoutfitters.com
---
Northwoods Hardware
More than a hardware store! Also offering home & garden goods, art & office supplies, fax & copy service, FedEx shipping & packaging, camping & recreational gear, screen & window repair. Nuts to bolts, cookware to cleaning, birding to gardening…your local destination for great service in a fun & energizing atmosphere.
6053 Ray Street (M-22) PO Box 260
Glen Arbor, MI 49636
231-334-3000
www.northwoodshardware.com
---
Petoskey Pete's
Now between Art's & Cherry Republic. Homemade t-shirt designs handprinted on top quality casual wear. Pete's is known for cozy comfortable goods at a fair price since 1984.
5972 S. Lake St.
Glen Arbor, MI 49636
231-334-3505
---
Queen of Couture
Seasonal women's boutique. We carry beautiful women's clothing, jewelry and handbags. Located on the deck at Boone Docks Restaurant in downtown Glen Arbor. Open daily Memorial Day weekend thru mid-August.
On the deck at Boone Docks
Glen Arbor, MI
231-334-2021
www.thequeenofcouture.com
---
Sleeping Bear Store
Best source of local & Sleeping Bear Dunes tees & sweats. Supplies for beach & survival. Books, toys, apparel & souvenirs. Open daily in season. Near corner of M22 & M72, Empire.
11690 Leelanau Highway (M-22) PO Box 254
Empire, MI 49630
231-326-5433 or 231-218-9921
---
Sleeping Bear Surf & Kayak
Northern Michigan's freshwater surf shop! Rentals, Lessons & Sales ~ Stand-up Paddleboards, Surfboards, Sea-kayaks & Skimboards. Longboards by Sector9 & loaded. Lifestyle apparel & so much more! Check our website for events throughout summer.
10228 W. Front St.
Empire, MI 49630
231-326-9283
www.sbsurfandkayak.com
---
Sportsman Shop
Great selection of sportswear for men, women and children from Columbia, Woolrich, Croc's, MTN Hardware, Exofficio, Helly Hansen, Quik Silver, The Northface, Roxy. A fabulous selection of sporting goods. Charter fishing available. Open year 'round.
5914 S. Ray St. PO Box 328
Glen Arbor, MI 49636
231-334-3872
www.thesportsmanshop.com
---
Surf and Sand Shop
Sand toys, floatables, beach towels/chairs, skim boards, flip flops, water shoes, kites and much more. Everything you need for a great day at the beach. Next to Anderson's Market, Glen Arbor.
6545 Western Ave. PO Box 103
Glen Arbor, MI 49636
231-334-3149
---
The Totem Shop
A Leelanau Gear store. Leelanau County's headquarters for camping, hiking & outdoor adventure. Everything you need to enjoy our beautiful county including clothing, camping & beach accessories, toys and so much more.
6521 Western Ave. (M-22) PO Box 85
Glen Arbor, MI 49636
231-334-3533
www.thetotemshop.com
---
Tiny Treasures
Toys, toys & toys! Best gift store and toy store in the north! Cards, books, jewelry, framed art & decoys. Legos, games, puzzles, plush animals, baby items & much more! Open all year. Located in the Village Sampler Plaza (M22.
5919 M-22, P.O. Box 178
Glen Arbor, MI 49636
231-334-3874 or 231-334-2100
www.tinyt.com
---
Wildflowers
Wildflowers–gardens, unique gifts, home accents, wall art, accessory furniture and more.
Relax in over an acre of lush gardens, a showcase for shade gardening that will inspire and delight you. You'll find an incredible selection of wildflowers, perennials and annuals, plus statuary and garden gifts. You'll love "You Jazz in the Gardens" Tuesday evenings in the summer. Bring an instrument and join in or just come and enjoy the music.
Visit our historic railroad Depot, now filled with a selection of antique reproductions, toys, kites and up north decor.
Inside Wildflowers you'll discover the best selection of everything from the cutest jewelry, jackets and shoes to lamps and framed art. Plus we have the best soaps and lotions, including Crabtree and Evelyn.
Located next to the hardware on M22 in Glen Arbor.
Open April to mid January.
6127 Manitou Trail (M-22) P.O. Box 68
Glen Arbor, MI 49636
231-334-3232
www.wildflowershop.com
---
The Yarn Shop
The Yarn Shop has been a Glen Arbor fixture since the 1950s – A Family business that has stayed in the same family for more than 50 years.
These days, the Yarn Shop is a hive of creative activity, open seven days each week throughout the year. Mary Turak, the store's owner, regards it as a working studio and yarn lab as well as a retail outlet for a wide range of exciting novelty yarns in a full range of colors and textures and a great selection of worsted and bulky weight wools. In addition to yarns from commercial sources, Mary creates unique skeins using unexpected, innovative combinations of yarn. The Yarn Shop's reputation for original handknit sweaters has expanded to include cutting edge garments geared and designed for all skill levels. Free instruction is offered any time the store is open. Come visit us!
The Yarn Shop hosts open knitting every Tuesday, 6:30-9 p.m. at the store. All knitters of all skill levels are welcome.
5917 M-22 (Village Sampler)
Glen Arbor, MI 49636
231-334-3805
---