Leland Shopping
6 January 2012
No Comment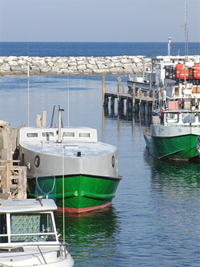 Leland is a picturesque little village located on a sliver of land between Lake Michigan and Lake Leelanau, on beautiful Leelanau Peninsula. This uncommon and charming village will mesmerize you with its beauty and amenities.
Guests arrive by car, boat, and bicycle. Once here, Leland is a great "walking around" town. All of the shops, restaurants, galleries, and museums are located within a short distance. There is easy access to public beaches, boat launches on each lake, and a river connecting the two.
Leland's historical district, known as Fishtown, features rustic shanties and docks reminiscent of life and commercial fishing one hundred years ago. Today, galleries and unique shops fill their walls, and charter fishing trips and the only public ferry to the popular Manitou Islands depart from those same docks. The adjacent full service marina is the perfect place for launching and mooring boats on Lake Michigan.
---
Alice's Closet
Alice's closet in beautiful Fishtown features vintage and vintage inspired clothing and accessories. Many items are handmade by us in Leland. We specialize in fun clothing, jewelery and accessories for all ages. Come visit us at the "Closet" for a unique shopping experience!
203 W. River.
231-256-8875
---
At The Lake
A unique collection of fun things including a wide variety of accessories and essentials for the beach, the boat, the golf course, the tennis court, the garden, the cottage and everyday life AT THE LAKE.
Contact Information:
110 Lake Street
PO Box 326
Leland, MI 49654
231.994.2008
email: jlarigan@at-the-lake.com
Open Daily May thru December!
---
Becky Thatcher Designs
Contemporary gold and silver jewelry, inspired by the beauty of the Leelanau Peninsula. Becky's designs incorporate exotic colored gemstones collected in Asia and beachstones from Lake Michigan.
301 South Main, Leland, Michigan 49654
231-256-2229
sales@beckythatcherdesigns.com
---
Diversions Leland
Diversions Leland, on the docks for 40 years, has 100s of hats for all heads. Tees, hoodies and gift items (featuring our Fishtown logo) along with toys, clothing, beach-bags and wraps fill our shelves with something fun for everyone.
201 W. River, PO Box 264, Leland, Michigan 49654
231-256-9017
info@hatsearch.com
---
Epiphany
A mix of new and old color, texture, style for your home or cottage.
309 S. Main St, Leland, Michigan 49654
231-256-0141
---
Fishtown Sail Co.
Inspired by a love of water, sailing, and nature FSC re-purposes sails and other materials to create one of a kind functional souvenirs. If these sails could talk, they'd tell of the wind, they spray, and the romance of the Great Lakes and inland waters. The hope is that each piece evokes the same memories for those who take them on new adventures.
Fishtown Sail Co.
106 N Lake St, #5
Leland, MI 49654
---
Good Old Books
After nearly thirty years selling books, at first in the shops of others and then on the Internet, we have opened our own bookstore in Leland, Michigan. Our 340 square foot mini-shop holds about 5,000 books, both fiction and non-fiction, and includes a wide and exciting variety of first editions with many signed by their authors.
We specialize in Regional Americana, with a good selection of works on Michigan and the Great Lakes as well as rivers, mountains and lakes of America. We also have books featuring Latin America, the West Indies, Mexico, Canada and other areas of the world.
Readers and collectors of History and Biography will find a great selection, as will those interested in books about books. Our fiction section is rich in signed books and the Classics of literature, from Edward Abbey to Emile Zola.
305 River Street, Leland, MI 49654
231.256.2396
gabbooks@yahoo.com
leelanau.com/goodoldbooks
---
Green Goodness
An array of Earth friendly products for women, baby, body and home.
106 W Pearl St
Leland, MI 49654
231.256.2661
email: greengoodness@hotmail.com
---
Harbor House Trading Company
The outdoor apparel store featuring the North Face, Mountain Hardwear, Lole, Smartwool, Prana, Maui Jim, Roxy, Oakley, Keen, Reef, Lots of Swimwear, Toys, Leland & M-22 t-shirts and sweatshirts, and of course, 32 flavors of premium ice cream.
101 N. Main – P.O. Box 940, Leland, Michigan 49654
231-256-7530
---
Haystacks
Ladies clothing and accessories designed and manufactured in Leelanau County exclusively for our retail stores in Leland, Suttons Bay, and Traverse City.
www.haystacks.net
103 N. Main, Leland, Michigan 49654
231-256-9675
---
Jaffe's Resale & Consignment
Voted best resale shop in Leelanau Country seven years in a row; stop in and see why. Featuring women's apparel, antiques and furniture. Fun place and always interesting. Conveniently located in Lake Leelanau, between Suttons Bay and Leland.
102 W. Meinrad
Lake Leelanau
231-256-0177
---
Land of Delights
A delightful shopping experience awaits you at our colorful cottage decor and gift boutique. Home to our Leelanau Theme Song music box, we also offer a variety of other treasures including acrylic tablecloths from Provence, dinnerware that looks like Florentine pottery but does not chip or break; cool conversational pieces for entertaining, baby gifts, area rugs, artwork, and more.
Leland Courtyard, 106 N. Main, Leland, Michigan 49654
231-256-913
---
Leelanau Books
Full service bookstore, specializing in regional books and Michigan authors. Current bestsellers as well as many old favorites. Wonderful children's and young adult selections. Special orders, e-mail and website orders gladly accepted. Open year round.
109 N. Main. – PO Box 1108, Leland, Michigan 49654
231-256-7111 or 888-257-0133
LnauBooks@aol.com
---
Leland Beach Company
Located in Leland's historic "Fishtown" and nestled next to the beautiful Leland Harbor…we've been a Sperry Topsider shoe shopping tradition for over 25 years! Come by boat or come by car and check out our huge selection of Sperry and other fine brands.
133 River Street
231-256-7600
---
Leland Toy Company
Featuring Melissa & Doug, Playmobil, Klutz, Ravensburger, Ty and Papo. Games and puzzles for the entire family plus toys and games for the beach and backyard.
Enjoy locally made hot dogs and brats at our hot dog stand!
Open all year, call for hours!
201 N Main St
Leland, MI
231-256-7575
mkcrimmins@gmail.com
---
Molly's
The largest collection of beautiful sweaters, including many handknits, in Northern Michigan! Add to that fabulous sportswear. Lovely artist-made jewelry, wonderful bath and body products, and fun accessories. Simply put – this is a shop you can't miss!
Open daily May-New Year's, Winter-Fri-Sat or by chance.
105 Main St., Leland, Michigan 49654
231-256-7540
info@mollysleland.com
---
Nature Gems
Specializing in beads and Petoskey stones in various formats, shapes, and sizes.
106 N. Main St., Leland, MI 49654
231-256-7570
---
Niki's Harbor Fare
Niki's Harbor Fare is an offering of many different types of art, customs photography, title work, dishes, paintings, jewelry, cards and notes. Each a gift to remember of lasting value and enjoyment.
110 N. Lake St, Leland, Michigan 49654
231-256-2270
---
Party on the Porch
Find everything you need for entertaining-gourmet foods, fun tabletop, wine and bar accessories and grilling ideas. It's a lifestyle. Vera Bradley, Baggalinni, greeting cards, garden items and MORE!
106 Pearl St
PO Box 336
Leland, MI 49654
231.256.8870
---
River & Main
Sip Gourmet Coffee, find Art/Collectables from Artists locally and internationally, take home our area's finest wines. Enjoy our celebrated selection of over 600 old fashioned Candies, hand dipped Chocolates and Fudge!
102 N. Main Street, Leland, Michigan 49654
231-256-8858
---
Rustic Roots
Inspired by the organic beauty and natural palette of nature, our shop captures the ethos of life. Carefully selected ware for the home merge seamlessly with textures and designs for the self creating a fresh perspective and unexpected style. Nestled in the back of the Leland Courtyard, Rustic Roots beckons you to venture in and explore.
PO Box 888
106 N Main St
Leland, MI 49654
231.256.0054
---
Tack & Jibe
Influenced by the traditional craftsman of the Great Lakes, summer cottages, stripes on boats, freshwater swimming, and simple honest Americana, Tack & Jibe features classic objects and designs that are intended to surprise, delight and be cherished.
Located in Historic Fishtown. Shop opens at 10:00 everyday.
PO Box 59, Leland, Michigan 49654
231-256-2070
ahoy@tackandjibe.com
---
Tampico
Sterling Silver jewelry is our specialty, featuring our Petoskey Stone, Leland Blue and Beach Glass designs, Old Pawn/Estate Navajo silver & much more. Blown glass, pottery, copper, tin, folk art & accessories from Mexico, Garden Goodies & our famous Vintage Southwestern Cowboy Boots. Always the unique & unexpected since 1986!
PO Box 1015 – 112 N. Main Street, Leland, Michigan 49654
231-256-7747
TampicoTC@aol.com
---
The Crib
An eclectic collection of clothing, jewelry, and gifty stuff… Lots of your favorites like Billabong, Joe's Jeans, Ray Ban, and Persol… Lots of cool silly stuff too! On the river in Fishtown-See ya there!
203 W. River, Leland, Michigan 49654
231-256-7962
---
The Fish Hook & Village Shoe
A fun and sports store. Beach and lake gear. Fishing dept. licenses. Kayak rentals. Locally themed T-shirts. Sweatshirts. Hats. Teva & Birkenstock sandals. Merrell comfort shoes. Sabago boat shoes. Over 50 styles of Minnetonka moccasins! Open 7 days May-Oct.
110 W. River Street, Leland, Michigan 49654
231-256-9501
---
Tug Stuff
A unique clothing and gift store featuring our famous "tug" logo. Established in 1996 we offer many clothing and gift choices for the whole family, located in Historic Fishtown. Open Daily May thru October.
"Don't leave port without it!"
201 W. River.
231-256-7140
---